About Us
Give Your Asphalt New Life with JIVE
Here to give your old asphalt new life, JIVE™ is the latest innovation from POET. JIVE is unlike any other asphalt rejuvenator, modifier, and shingle coating additive on the market. Due to POET's patented BPX process, JIVE is the most cost-effective, safest, and healthiest choice available today. And because JIVE is produced from 100% homegrown American corn, it's greener than the competition by a mile.
BPX Production Process
Poet's process starts with testing every inbound shipment of corn. Our corn is ground very finely to prepare for our BPX cold cook fermentation. Rather than using heat as a catalyst, we use a proprietary biological process patented by POET.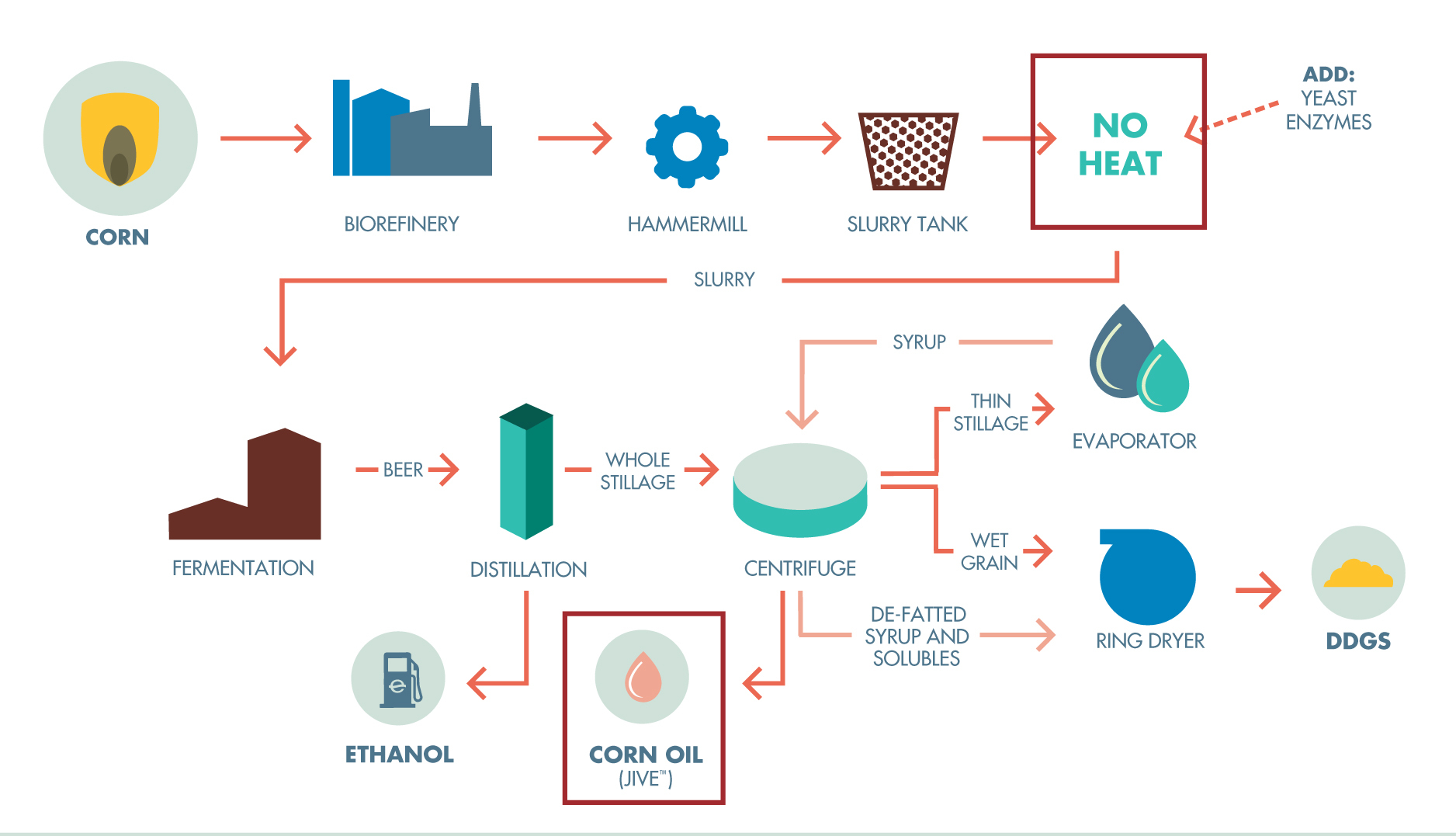 Why JIVE
JIVE is a lower-cost, more environmentally friendly and safer alternative to other products on the market today. And due to the unique characteristics of JIVE which are derived from our patented BPX process, is that JIVE can be used in several ways in the asphalt industry – as a PG modifier, as a rejuvenator, or as a shingle coat additive, each with its own significant benefits.
And you can rest easy knowing that with POET's extensive production network and meticulous quality control systems, you will receive the supply assurance and consistent product you need for your operation.
Here are some ways JIVE can give your asphalt new life:
As a PG Modifier
JIVE™ reduces viscosity and increases the UTI of bitumen from an array of crude sources by improving low temperature properties while limiting high temperature rutting.
Decreases the low temperature grade of asphalt to attain as low as -34 or -40 grades.
Low dosage rates of 3-4% by weight of binder to improve asphalt binder by one PG grade.
As a Rejuvenator
Improves mix performance of high RAP and RAS mixtures
While JIVE™ changes the PG grade of virgin bitumen it also rejuvenates RAP mixtures by
restoring the aged bitumen's properties, allowing for more flexibility in mix designs.
Intermediate and low temperature cracking resistance is enhanced even at high RAP content while not negatively impacting rutting resistance.
As a shingle coat additive
Low percent inclusion (1-3%) for observed benefits
Improvement in shingle coating softening point and penetration relationship (penetration increases 2.2 dmm per percent inclusion)
Reduction in shingle coating viscosity
About POET

For over 30 years, POET has become a leader in renewable biorefining by utilizing its efficient, vertically integrated approach to production. POET began as a small family project, and has grown to a global leader in renewable energy. Our mission is to be a good steward of the Earth by converting renewable resources to energy and other valuable goods as effectively as humanly possible. It is our relentless pursuit to develop new ways to replace petrochemicals with natural, bio-based products.
The difference is the process…
POET's patented BPX process produces biorefined products that consistently outperform the competition. While other producers in our industry use a jet cooker to break down starch with heat, BPX converts starch to sugar with a proprietary blend of enzymes, making POET's products unlike anything else on the market.
More than just bioethanol…
Over the years, POET has not only become the largest bioethanol producer in the world, but also a leader in the bioethanol co-product feed space, producing 10 billion pounds of distillers dried grains and 600 million pounds of corn oil each year. With our 27 plants, we have a global reach and boast an established logistical network, giving you supply assurance and combined price advantage you can't find anywhere else.
Recently, POET was named to FORTUNE's Fifth Annual "Change the World" list. The list honors for-profit global companies that are using their core business to help the planet and address pressing social or environmental issues. In 2019, Fast Company also recognized POET on its annual list of "Most Innovative Companies" for transportation. POET made the annual ranking in the transportation category thanks to its new proprietary asphalt rejuvenator and modifier called JIVE, now being used to pave roadways in states across the U.S and beyond.
JIVE Team
Alex McCurdy, Ph.D. - Senior Research Scientist

Alex joined the POET team in 2015. He spent much of his time assessing the composition and industrial applications for corn oil. Alex and others discovered POET's corn oil—JIVE—had a unique composition which made it well suited for improving asphalt performance. Alex works closely with various asphalt entities to help determine how JIVE can improve their asphalt quality and market competitiveness.
Alex graduated from the University of Indianapolis with a Bachelor's of Science in Chemistry. He then attended graduate school at Utah State University and earned his Ph.D. in Biochemistry. Alex's graduate research focused on production and applications for biofuels and bioproducts.
Interested in Learning More?
Get in touch with us to see how JIVE can get your old asphalt back into shape.
Contact Us